Gal Furer, Managing Partner
Advocate Gal Furer, is co-founder of the Israeli Chamber of Commerce in China ("IsCham"). He served as vice-chairman and the legal adviser of IsCham Beijing since its establishment until the end of 2011. He is a senior counsel at Broad & Bright law firm and the Managing Partner of Viz-Asia.
Mr. Furer settled in China in 1998 and since then he held various senior management and legal positions. He served as the GM of ICD Security Solutions; as director and CTO of Beijing Digital / ITR; and since 2002 he served as the legal counsel of major Israeli players in the Chinese market. Mr. Furer is the first and only Israeli lawyer to become a key member of a leading Chinese law firm as a senior counsel of Broad & Bright. Mr. Furer is an expert of the theoretical and practical aspects of Chinese law and he is a frequent lecturer of matters related to doing business in China.
Before arriving in China Mr. Furer practiced law at Jerusalem City Legal department (public prosecutor) and at Feldman & Co. law firm. He also served as assistant-professor at the law school of the Hebrew University in Jerusalem. Mr. Furer has LL.B. degree from the Hebrew University in Jerusalem law school and was admitted to the Israeli Bar in 1992. He also holds a special equivalent B.A. degree in philosophy from the Hebrew University in Jerusalem, as well as various diplomas and certificates in the IT field and Chinese language. Mr. Furer is fluent in English and spoken Chinese.
Mr. Furer is a devotee of sport, nature and outdoor activities. He served in various positions at "green" organizations, such as SPNI (Society for Protection of Nature in Israel) and the Israeli Youth Orienteering Association (as its General Secretary). Mr. Furer has a sustainable joint venture with his Chinese wife (a "Beijinger") the joint venture products include two lovely boys. Gal can be contacted directly at: Gal.Furer@viz-asia.com
Mack XG Zhang, HR & Coaching Consultant
Mack is the founder of the consulting firm McFacilitation. He has over 15 years of experience across the Asia Pacific region in facilitating strategic planning meetings and workshops and delivering management development learning programs for major international companies and organizations in China, Vietnam and Singapore. He also taught Employee Development at the International College at Beijing, China Agriculture University.
In the past, Mack worked as the management training manager of SIEMENS (China), responsible for developing and implementing a series of management development programs and coaching Business Impact Project teams. Mack also worked as a consultant for a major Asia based HR consulting firm in the past.
In addition to his consulting expertise, Mack is well experienced in journalism; he worked as a researcher and fixer on numerous investigative projects with major international media outlets including the GEO Magazine, Forbes Magazine, the Economist, the Chicago Tribune and the Baltimore Sun.
Mack is an active contributor to the society. He has provided his service to various NGOs in west China and less developed areas, including the Right to Play, Eurasia Foundation, Ford Foundation and the Brooks Research Center. He has also worked as a team leader on a documentary project during the Sichuan earthquake.
In his spare time, Mack is an artist and curator. His photography work and ink paintings have been exhibited in various galleries and museums in China and Germany.  Mack loves traveling; he has traveled around Europe, North America and South East Asia. He has studied and lived in England and the United States.
Mack holds a MBA in International Business from the University of Bedfordshire in the UK. He is fluent in English and is a native speaker of Chinese (Mandarin). Mack can be contacted directly at: mackxgzhang@gmail.com
Mickey Mushinsky (may god bless his name)
Mickey Mushinsky was a partner and a friend who helped us to establish Viz-Asia. Unfortunately, like all the best, he left us too soon due to incurable illness.
Mr. Mushinsky was also co-founder of the Israeli Chamber of Commerce in China (IsCham) and served as a Chairman of IsCham since its formal establishment in 2008.
In the link you can learn more about him.
Boaz Rottenberg - Market Research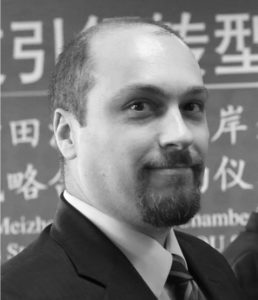 Boaz Rottenberg is co-founder of Maverick China Research and has served as Managing Director since 2006. He has managed projects for clients such as Visa, American Express, Motorola, France Telecom, Deutsche Telekom, Nokia, Hewlett Packard, Mettler-Toledo, and other leading Fortune 500 companies.
In November 2011 Boaz was elected to the steering committee of the Israeli Chamber of Commerce in China where he currently serves as the Vice-chairman.
Prior to founding Maverick China Research, Boaz was the director of market research at a leading Beijing telecom consulting firm; he also worked as a senior analyst at a China-focused market research firm, where he led a number of projects in the industrial, medical, and chemical sectors.
Boaz grew up in Israel and Hong Kong and has lived and worked in Beijing since 2003. He received an M.A. in Economics from the University of Hong Kong and a B.A. in Economics from the University of Haifa in Israel. Boaz is fluent in English, Mandarin Chinese, and Hebrew.
Boaz can be reached at boaz.rottenberg@maverickchina.com.